...a bit about me as it relates to computers and business
Early Computing
---
Back in my "single-digit years" Dad had various pre-IBM PC computers to assist with the paperwork of his business. I would occasionally sit at the keyboard and type in a program from a computer magazine.
Hours would be spent typing and then trying to run the program. Invariably, the first operation would halt with an error on some line. I'd then delve back to the code to work on the error. Some were simple "type-o's" but others weren't as easy. For the difficult errors, I'd have to work with the logic to figure it out.
This error recovery became what I now call "my chess game" - figuring out what is causing the issue and then achieving a resolution.
First Business Experience
---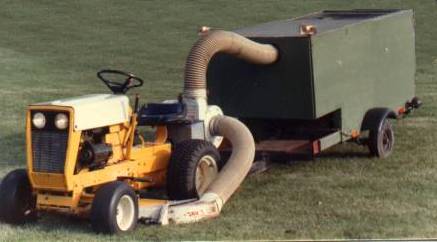 When I was eleven years old I purchased a burned lawn tractor. With some help from my wonderful parents I rebuilt the unit and started to cut grass for customers. This would be my first taste of being self-employed.
That business ran through the end of grade school, high school, and into college. Some of the initial customers were with me through all of those years.
This gave me direct experience in tending to client desires in addition to the mechanics of running a business.
First Computer
---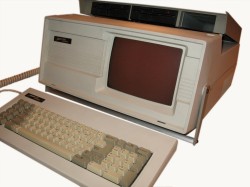 One fruit of this operation was my ability to purchase a portable computer for college. It was a 38 pound Zenith Z-161 suitcase "luggable".
The purpose of the computer was to help me work on homework - writing programs or typing papers. It saw a few upgrades and modifications through the years before being replaced by faster systems.
Helping Others
---
My spare time at college, Northern Illinois University, was filled by working in the residence hall computer labs. I started out as a desk clerk and quickly moved into a new position "made for me" - Equipment Manager. The responsibility was to keep the 100+ student computers and printers operating. I found the experience enjoyable, both in working with the equipment and in helping people accomplish their tasks.
the Computer Lab

opens
---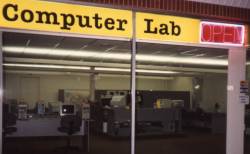 After graduation I opened "the Computer Lab," an off-campus hourly computer rental business open to the public. September 13, 1992 was the memorable first day.

The initial location was a 1000 square foot glass front retail storefront in DeKalb Illinois. The purpose was to serve the needs of off-campus university students.

That location was open for three years. As the third year progressed the demand for my services shifted from hourly computer rental to on-site computer service. The on-site service demand came about by my physical presence on a busy road. City residents would stop in and ask "Can you come to my house / business and fix my computers?". Yes!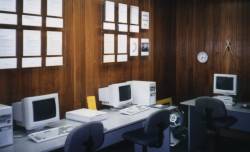 In the transition, the business moved from the retail storefront to an office space. Access to hourly computer rental was provided though it was secondary to on-site service.

This second location existed for two years. During that two year transition I found myself spending most of my time out of the office and servicing clients in the Rockford and DeKalb areas. The demand for hourly computer rental to students was low enough that the location was no longer needed.

The summer of 1997 found my sole occupation traveling to client locations to tend to their needs. This would continue for several years until one of my larger clients consolidated into one building. They had need for full-time support and asked if I would transition from an outside provider to a full time empoyee.

The decision carried a fair bit of weight as it meant closing my well-running business and saying good-bye to many wonderful clients. It was a difficult choice, but I said yes.

My relationship with this client-turned-employer lasted a couple years until they asked if I would consider "going back to the old way". After several important "Yes's" in life this time I said "No Thanks".

With some flexibility at hand I decided to check an environment I've long considered... Colorado!

Here I am, working to restart the business. I'm certain there are many wonderful people who would enjoy my services. Sound like you? Give a call, it'd be nice to meet you.